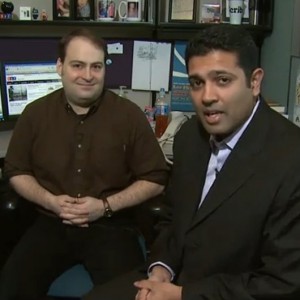 My March 2011 video clip of the month is a PBS News Hour interview of Andy Carvin, (@acarvin), National Public Radio's social media guru, on how he used Twitter to curate social media to turn himself into a "real time wire service" for the protests in Egypt and Tunisia.
I chose the video because Carvin's work curating the news provides a hint of what news and information management can look like in an increasingly networked world. From a cubicle in Washington, D.C., Carvin has been able to create a close proximity to situational awareness, giving his readers an incredible perspective, with pictures, video, and translations coming in real time. He managed regularly to beat major news outlets on news events by keeping up with the flow of information on Twitter and knowing who's behind what tweet.
According to the Neiman Journalism Lab blog, his success forced a lot of people to redefine  "covering a story" and the nature of "journalism" itself.  
"'It really has stood out as an alternative model of news,' says Kinsey Wilson, NPR's senior vice president and general manager of digital media. It's also led to earnest talk of a Pulitzer for curation (with Carvin, of course, as the prize's first recipient) and to equally earnest discussions, among Jeff Jarvis and others, of translating Carvin's curatorial prowess into a full-fledged business model," Neiman reported.
Bottom line: if you're trying to wrap your arms around how social media is changing the world, the video is a must see. So is Carvin's Twitter stream. Enjoy the video below.
What impact do you think social media will have on journalism? Please share your predictions in the comments section.

Posts You Might Also Like