Here's a graphic showing why information and communications technologies (ICTs) represent the power to influence behavior and affect large-scale change at a reasonable price for the first time. It's basically an after thought from last week's post on 3 Ways ICTs Remove 'Classic' Barriers to Action.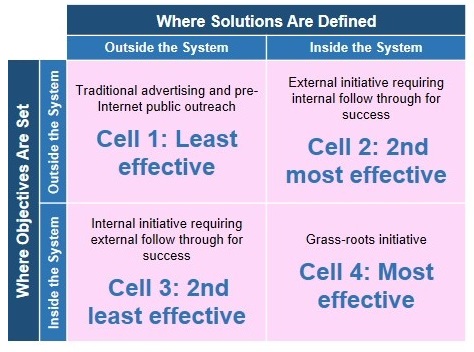 How ICTs represent a disruptive technological shift to public communications:
Cell 1: Until recently, most traditional advertising and public communications campaigns used the approach shown in Cell 1. Because stakeholder groups were too large to engage efficiently or cost effectively, you set objectives and defined solutions with minimal or no input from stakeholder groups. This often proved ineffective, especially when behaviors being addressed were high risk or high cost.
Cell 2: Many funders of public communications campaigns focus on harnessing influencers to affect desired change from within the systems of stakeholder groups. This is the second most effective way to affect change. The major problem with this approach is stakeholder groups often feel little ownership over—and motivation to carry out—solutions you dictate.
Cell 3: Some funders of public communications campaigns focus on having stakeholder groups find and implement their own solutions. Involving those who would benefit most from a good outcome is always a strong motivator. Until ICTs' recent user-customization and responsive designs, however, a debilitating obstacle was mass producing campaign materials at a reasonable cost that were useful and appropriate for stakeholder groups with diverse needs.
Cell 4: The approach for Cell 4, the opposite of many traditional advertising and public communications campaigns, allows stakeholder groups, not funding organizations, to set their own objectives as well as define their own solutions. This represents the optimal strategy to affect lasting change. Alcoholics Anonymous and Neighborhood Watch organizations are good examples of this approach in action. Only with ICTs, however, is this approach possible without infinite funding.
Of course, Cell 4 also means understanding and rethinking why and how you do things (especially if you are still stuck, even partially, in Cell 1) to create a web of engagement fueling lasting change with many hands.
We certainly live and work in an exciting time.
Editor's note: the graphic is adapted from a similar one I recall seeing at some point on why affecting large-scale change via communications is nearly possible without grass-roots support.