"The pen is mightier than the sword, and considerably easier to write with."
—Marty Feldman
Did you know a '60s-era campaign organizing strategy inspired by Mao Tse-tung foreshadowed social media's power?
From Richard Hofstadter's 1964 essay The Paranoid Style in American Politics:
"In his recent book, How to Win an Election, Stephen C.  Shadegg [Barry Goldwater 's Campaign Advisor] cites a statement attributed to Mao Tse-tung: 'Give me just two or three men in a village and I will take the village.' Shadegg comments: 'In the  Goldwater campaigns of 1952 and 1958 and in all other campaigns where I have  served as consultant I have followed the advice of Mao Tse-tung.' 'I would suggest,' writes senator Goldwater in Why Not Victory? 'that we analyze and copy the strategy of the enemy; theirs has worked and ours has not.'"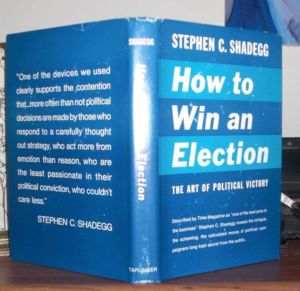 Shadegg's copying of the "enemy's strategy" led him to recommend candidates cultivate what he called "social precincts," or networked individuals, as crucial elements of their campaigns. By social precincts, he meant enthusiastic and knowledgeable supporters made to feel like insiders and that their opinions and advice matter to the candidate. A campaign could then count on these carefully cultivated social precincts to ignite and spread passion for the candidate.
From the fifth edition of Political Campaign Communication (now in the seventh):
"Based on extensive experience with social precincts, Shadegg claims that if he can enlist 3 to 5 percent of the constituency in these precincts, he will win the election. For if 3 to 5 percent of the constituency believe they have a special interest in a candidate, Shadegg feels that in their normal day-to-day social interactions, they will prove influential on a significantly large enough number of voters to win most elections."
Clearly, Shadegg recognized the ability of social networks to attract and mobilize supporters, arguably better than any other communications vehicle today.
From a recent article in Ad Age:
"Social media made some inroads in the 2008 election, with the Obama campaign using Facebook to build volunteer donor networks and activate the base. In three short years, however, social media has evolved so dramatically, and become so pervasive in daily life for most likely voters, that the fledgling tactics deployed in 2008 look positively ancient. …

"Political messages within social media promise to engage users even more deeply than brand messages. Our recent SocialVibe study found that 94% of social-media users of voting age engaged by a political message watched the entire message, and 39% of these people went on to share it with an average of 130 friends online — a rate of sharing that's about double what we typically see for non-political campaigns. This shows you how "share-ripple" goes far beyond the initial audience targeted by the campaign. And 1/3 of friends opened the message — creating millions in free earned media for the candidate or cause."
Ironically, Shadegg's "social precinct" organizing strategy not only foreshadowed social networks' powerful influence on the political agenda, it also disproved some of the ideas of Chairman Mao, the person who inspired it. One of his most famous quotes on the necessity of revolutionary terrorism is:
"Revolution is not a dinner party, nor an essay, nor a painting, nor a piece of embroidery; it cannot be advanced softly, gradually, carefully, considerately, respectfully, politely, plainly, and modestly. A revolution is an insurrection, an act of violence by which one class overthrows another."
The largely peaceful, social media-powered "Arab Spring" protests prove otherwise.
Posts You Might Also Like