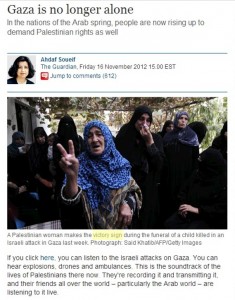 My compassion turned to shock after reading the caption of a photo of mourners at the funeral of a child killed in an Israeli attack in Gaza earlier this month. The caption indicated the photo's main subject, an elderly woman wearing a bright blue leopard print head scarf, was making the victory sign as women grieved in the background.
When I first saw the photo I assumed she was making the peace sign, perhaps to signal her frustration with the fighting between Hamas and Israel. Mothers and grandmothers yearning for peace is a totally different interpretation than somebody perceiving the death of a child as a victory of some kind.
Then I thought of all the photos I've seen in recent years, largely via Twitter, of Tunisians, Egyptians, and Libyans making the V sign. In the context of their Revolution 2.0s, I had definitely interpreted their hand gestures as a hopeful victory sign, not something to do with stopping war. But then I remembered recently seeing a photo of a Tunisian woman making the V sign at a rally protesting a woman being charged with indecency after being raped by policemen. Neither peace nor victory seemed to make sense in that context.
The more I thought about it, I wondered if Middle Eastern usage of the V sign just does not translate properly through a Western lens. Does the elderly woman in the photo even speak English and know the word "victory"? Is she familiar enough with the Latin alphabet to know what the letter "V" is? If she does not know the word "victory" and has no idea what the letter "V" is, could she possibly mean something different altogether, something closer to unity or solidarity? Without a way of contacting the photographer or the woman in the photo, I am just left wondering whether the caption, written through a Western lens, was spot on or only superficially accurate.
Now to my point.
Much media attention has been given to Israel and Hamas's use of social media during the recent conflict. Both sides were appealing to world opinion to make the case that the other side does not respect human rights. I do not think it is a stretch to state propaganda was used, and deciphering the truth in an atmosphere clouded with propaganda (and the painful emotions of war) is hard… especially when you have a limited understanding of the cultures being depicted.
Thanks to Andy Carvin (see bottom of story linked), my tweet stream was filled with updates from real people at the frontlines of the recent conflict. While I found viewing these tweets a little depressing, I find hope in social media's growing ability to connect us with civilians who do not have any agenda but do have on-the-ground situational awareness. When you see a tweet with a photo of an explosion near somebody's home you can quickly read the person's tweet stream to discern context and credibility (boosted if retweeted by Andy Carvin). Likewise, when you see a tweet with a photo of people making the V sign, you have a more clear idea whether they mean peace, victory, unity/solidarity, or something else entirely.
Most importantly, you can ask the source directly if you are unsure.
In other words, social media's self-cleaning oven "auto-correct" properties gives ordinary citizens the power to further understanding between people and break down the good-versus-evil stereotypes that propaganda can perpetuate to justify war.
My fingers are crossed the path to elusive Middle East peace lies in this direction.
Posts You Might Also Like