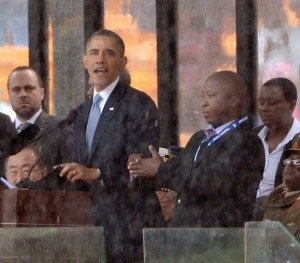 What do the South African government officials who hired the "fake" sign language interpreter for Nelson Mandela's memorial have in common with U.S. military commands charged with contracting communication firms for information operations (IO) and strategic communication efforts?
Apparently, hiring people without the necessary expertise because they have no background in the area.
According to a fascinating report by the Strategic Studies Institute of the U.S. Army War College (tip of the hat to the Public Diplomacy, Networks and Influence blog), the IO and strategic communication efforts the U.S. military funded in places like Afghanistan were bungled for this very reason:
"Concurrently, there appears to be an absence of intelligent customers. While staff colleges and military academies prepare military officers and diplomats for career service, experience shows that corporate understanding of even the most basic principles of influence are exceptionally weak. This is not a criticism of individuals, more a statement of fact…. Unfortunately, the operating environment has now changed radically from that which prevailed during [commanding officers'] formative years. This unfortunately makes them highly susceptible to very persuasive and convincing sales talk from communication contractors. Why would you NOT buy an IO program from a company that, say, boosted sales of a particular car by 30 percent? Superficially, it seems logical, but the nuance of the type of communication, and the precise effect sought, is lost on busy military people who have no background in this area," writes the author, Dr. Steve Tatham, Great Britain's leading military expert on strategic communication and IO.
Assuming everything he writes is true, and I have no reason to suspect otherwise, I hope the report becomes required reading for U.S. military commands involved in strategic communication and IO. Besides the revelation frighteningly parallel to the Mandela signer fiasco, the report does an excellent job explaining must-know information about the differences between various disciplines within the science of communication. Dr. Tatham breaks them into three models:
Informational communication: For the military, these are "no spin zone" public affairs officers charged with being first with the truth while balancing the need to constantly and promptly keep target audiences informed of current events. In U.S. federal government contracting circles, this is also a must-have skillset for people charged with communicating to the U.S. Congress and senior policymakers to avoid crossing the lobbying, "self-aggrandizement," or "puffery" line.
Attitudinal communication: Dr. Tatham categorizes commercial marketing and advertising as attitudinal communication—focused on reinforcing positive attitudes or dislodging negative attitudes rather than behavioral outcomes. He cites frighteningly wasteful examples of U.S. military contractors using an attitudinal communication model to influence foreign audiences while paying little attention to measures of effectiveness or target audience analysis (in my personal observations, crossing the lobbying, "self-aggrandizement," or "puffery" line is another major pitfall when contractors targeting U.S. audiences only understand this model). He also notes U.S. and NATO doctrines are based on an attitudinal communication model and, as a result, are entirely top down (quite scary considering information and communication technologies power bottom-up communication and organizing). The problem, Dr. Tatham says, is selling something like toothpaste is simplistic next to selling U.S. military objectives, such as reducing the number of insurgent recruits or opium poppy growers in Afghanistan, and the impact required to make a difference is vastly greater:
"[I]t is important to remember that the consumer, by their presence in the toothpaste aisle of the supermarket, has already made a decision in their mind to make a purchase; their behavior has already been set. Indeed, that behavior would have been pre-determined by their upbringing (always clean your teeth before bed), their education (not cleaning your teeth will cause you painful medical problems), and other social or cultural factors (for example, guys with bad breath don't get girls!). All the advertiser has to do is switch the consumer's behavior from one brand to another—the key is that the consumer was already going to buy toothpaste…. A conversion rate of 10 percent (i.e., 1 in 10 buying a different brand of car or toothpaste) would be considered outstanding and for a large company may well prove highly profitable. But in military operations achieving a 10 percent change in the behavior of, say, an insurgent group or a hostile community is highly unlikely to be game changing in the context of the wider conflict," he writes.
Behavioral communication: Dr. Tatham terms communication focused on mitigating or encouraging specific and pre-determined behaviors as behavior communication. The U.S. military's IO (at least when practiced without user error) and social marketers from the health and environment sectors fit within this model. He notes, without referencing cognitive dissonance theory, that "behavioral communication can also be surprisingly effective in changing attitudes." He also notes, unlike the attitudinal communication model, this model necessitates solid target audience analysis and attention to behavioral measures of effectiveness. For this reason, he recommends the U.S. military refocus on behavioral communication and rethink the commercial marketing contractors it employs:
"Commercial marketing is not the kind of discipline that is equipped to deal with behavioral outcomes or scenarios that are more complex or require more nuanced definitions. It is this author's view that marketing principles are simply not effective enough to drive U.S. military capabilities and development; and that the end of that road will only be failure. Further, it is this author's view that only a scientific approach will do. This approach must be based on the sciences pertaining to human behavior, in all its myriad manifestations and with all its bewildering complexities, and not the limited perspective of consumer behavior, or the misguided assumptions of attitudinal psychology," he says.
Fingers crossed any new revelations about U.S. military communication contractors do not have any additional parallels with the fake Mandela signer. That story has gone from bad to worse.
P.S. Don't have time to read Dr. Tatham's report? Then view the 6-minute YouTube video below with a take similar to his on the three models.
Posts You Might Also Like