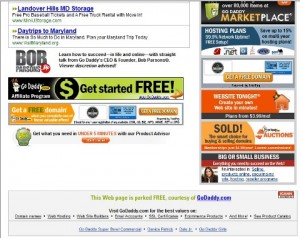 I was in for a shock last week when I visited the website of a non-profit whose website I recently redesigned in WordPress.
Instead of seeing the non-profit's website, I found a page full of ads reading at the top, "This page is parked free courtesy of [a different web hosting firm than the one the non-profit uses]." Using Network Solution's WHOIS behind that domain? page, I discovered the non-profit's domain registration information had been deleted, causing it to be cancelled under Internet Corporation for Assigned Names and Numbers (ICANN) policy against incomplete or false registration data.
It turns out a third party had been tapped to register the non-profit's domain name several years back. When the non-profit moved away from an HTML website with a monthly maintenance fee to a more modern but free WordPress site, some feathers were ruffled, spurring the person to delete the registration information and refuse to take any action to restore it. Since the person was the domain's owner plus administrative and billing contact, nothing can be done to get the domain back (short of hiring an attorney at great expense).
The lesson learned here is if you work for a small non-profit (or any type of organization of any size) make sure your domain name is registered to your organization and not a third party. You also should:
Make sure your domain owner contact is one of the highest members of your organization
Make sure you list a second contact for site administration who is equally one of the highest members of your organization
Use one firm to register your domain name and a second firm for web hosting so the people who maintain your website cannot change your domain registration information if they become disgruntled
Review and update your domain registration information (e.g., contact names, e-mail addresses, telephone numbers, etc.) every year
My story does have a happy ending. The non-profit went ahead and registered a new domain name (which is actually more appropriate than the old one) and transferred the website to the new address. Thanks to Twitter's live search results, search engines are already picking up the domain name change.
Has anything similar happened to you? Please share your experiences in the comments section below.