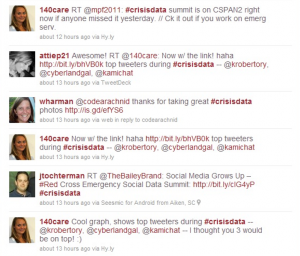 You might remember one of the good news stories to come out of January's Haiti earthquake. A Canadian woman trapped in rubble sent a text message to Canadian foreign ministry officials thousands of kilometers away. The message was relayed back to Canadian authorities in Haiti who were able to find and rescue her.
With people increasingly using text messages, Facebook, Twitter, and other new media tools to seek help in a disaster, the American Red Cross sponsored an Emergency Social Data Summit in Washington, D.C., yesterday on ways emergency managers, government agencies, aid groups, and concerned citizens can harness social media "to reply to these digital cries for help more effectively."
As I noted in my Exciting or Scary? Rise of Social Media Swarms, we're in the middle of communications renaissance. For the first time in history, each person has a voice that can be heard worldwide and then amplified exponentially if his/her conversation creates a buzz that turns into a swarm. In a disaster situation, these swarms could help rescue and comfort disaster victims … or could attack and amplify the shortcomings of relief agencies and their people.
I found out through Twitter last week that the Red Cross was inviting the public to participate in the summit remotely via U-Stream and Twitter. I immediately signed up and decided to tweet the event live (using the event's official #crisisdata hashtag). I am so glad I did. I found the summit speakers and Twitter conversation fascinating.  Below are the 30 tweets I found most compelling about disaster relief in a Web 2.0 and mobile world (i.e., my picks are not relief operations oriented).
Public Outreach
@sophiabliu Emergency mgt always focus on managing / controlling public and info, the convo should shift to coordinating and collaborating #crisisdata
@GlobalGiving RT @JustinHerman: "If a tool is not used properly it becomes a weapon."#CrisisData "A weapon against you, your org and your personnel."
@CyberlandGal: #Socialmedia can show to world than your #PR message is spin and/or wrong/out of date #crisisdata
@PPRedCross "Managing expectations and managing your reputations within those expectations" #crisisdata loaded statement
@MelyMello @jack_holt of DOD: People who r given the opportunity to help in a crisis are able to heal faster than those not given that opp #crisisdata
@Jack_Holt: #crisisdata Crisis comm is a matter of making information easy to share thereby making it easy to care.
Social Media
@SECPRGuy: Nice answer RT @ikepigott: "Social media empowers the public to be part of the response team, instead of victims" – @CraigatFEMA #crisisdata
@cspenn: Really good point: phones have a busy signal to tell you you're on your own. Social media doesn't
@gislio: @ikepigott I read somewhere that research showed over 90% of disaster-crowd data was correct…is media that right? #crisisdata
@dariasteigman @ikepigott Eveyone can fact check. As more eyes on-the-ground, the better the data should be. #crisisdata
@CrisisSocMedia Crowd sourcing: connecting those with needs with those with resources ~ @PatrickMeier #crisisdata #Russia
@CrisisSocMedia "Crowd feeding" – the crowd will always be there: connecting the crowd with each other ~ @PatrickMeier #crisisdata
@krobertory Same information from a trusted source (community of friends) has more impact then public official. #CrisisData
Twitter
@CyberlandGal: Hashtags need to be established before an event or VERY early so people can track & find info #crisisdata
@gwynnek Tweak the tweet is an awesome-simple-idea. People structure their crisis tweets via hashtags. #syntax #crisisdata
@CrisisSocMedia @EmergCommNetwrk Folks in emergency management puzzle over how to get more followers, yet rarely follow back: be social.
@EmergCommNetwrk "You can't lead if nobody is following." @krobertory // Q: How are agencies growing list of followers on Twitter? #CrisisData
@CyberlandGal: Twitter would likely go down in a major crisis. After all, it couldn't survive the World Cup #crisisdata
@140Care wow. that is so big. RT @CyberlandGal: 28% of people would send responders message on Twitter during an emergency #crisisdata
@jordanv What would 9-11 and Katrina have been like with Twitter? Scary but exciting to think what we could have done – #crisisdata reflection
Facebook
@CyberlandGal In disasters people turn to #Facebook to check on family & friends #crisisdata
@akmcquade 75% of people expect a response within an hour of posting about an emergency because these are their friends. #crisisdata
@akmcquade social media during an emergency isn't a response *alternative*, it's a smart way of reaching many people who care w/ 1 click #crisisdata
Mobile
@MarieNCGH – All you need is one working cellphone in a shelter to report data for hundreds. #PIO #crisisdata
@geoffliving We keep talking social media, and we should be talking mobile #crisisdata
Equity
@cherylble: #crisisdata using socmed tools can be good, but remember our mission is 2 help both the haves and havenots. Tech has the ability to divide
@CyberlandGal Quest: How 2 deal w/equity & #pr issues in 3rd world crisis. Can't just focus on elites w/ #SM access but if don't, word spreads #crisisdata
@ArkRedCross Social media's beneficial unless you live in an area underserved with internet or widespread access to computers and smartphones #crisisdata
Technology
@digitalsista: "technology is easier to fix that human behavior" as said by Red Cross CEO that's my hashtag #NoTechFix4HumanBehavior #crisisdata
@kc5fm Remember that technology is also limited by the user. If they don't have chargers or power, that CELL PHONE will soon die. #crisisdata
Which key tweets did I miss? Help forward the conversation and share your favorites in the comments section below.
Posts You Might Also Like