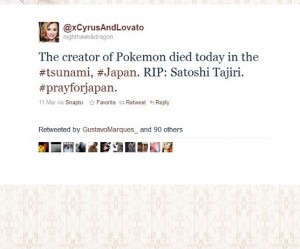 In the wake of Japan's earthquake and tsunami disaster, a handful of pranksters elected to play on fears and launch hoax tweets, fooling thousands if not millions.
Satoshi Tajiri, the creator of the Pokemon, become a Trending Topic yesterday on Twitter after Twitter user @xCyrusAndLovato tweeted "The creator of Pokemon died today in the #tsunami, #Japan. RIP: Satoshi Tajiri. #prayforjapan." It turned out to be one of many online rumors, some more harmless than others.
With more and more people are using social media to communicate with loved ones during a crisis (and being advised to do so), it is critical Twitter users do their best to pass on correct information. After all, it's heartwarming to hear of social media saving lives, but heartbreaking to hear the handful of stories of rescuers being sent off on wild goose chases (most, but not all, crisis tweets are true).
Here's seven ways the average person can be a good Twitter citizen during a crisis:
1. Only retweet information from Twitter accounts you trust. Only retweet information from accounts or people you know personally or personally trust.
2. Check the timeline. Before you retweet something, check the profile of the account that sent it to make sure an update hasn't been posted.
3. Check for related tweets. If you a see a tweet from somebody you don't know about an explosion in, say, Tokyo, find out what other people in Tokyo are tweeting. Chances are if several people are tweeting about the explosion at the same exact time, something's up. You can safely tweet about the explosion with the disclaimer "Unconfirmed."
4. Ask people to verify. If you see a tweet from somebody you don't know reporting about an event the media hasn't picked up, send out a tweet about it and ask people to verify the information, preferably with a photo.
5. Correct any mistakes. If you discover a hoax or innocent mistake, send out a tweet about it. Use an official retweet from a respected source where possible.
6. Use hashtags wisely. Typically during a crisis, several hashtags (a topic with a hash symbol ["#"] at the start to identify it) appear. For the Japan tragedy, hashtags in use include #Japan, #JPQuake, #JapanQuake, #PrayForJapan, #WeAreAllJapanese,#Tsunami, #Earthquake, and #TsunamiCharity. Using hashtags makes it easier for others to find your tweet in a search on the topic and have your tweet matter. Of course, avoid using hashtags emergency management professionals are using to rescue people (e.g., #J_j_helpme) unless you want to alert them.
7. Keep marketing out. A crisis—as fashion house Kenneth Cole and Microsoft have learned—is not the time to promote your brand or favorite brand.  Marketing on the back of human suffering will probably backfire.
Do you agree? Did I leave anything out? Please share your thoughts in the comments section.
Posts You Might Also Like