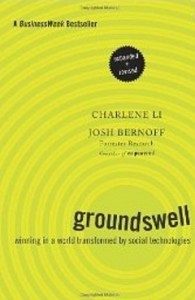 Groundswell is so far the best book on social media I've ever read. Written by Charlene Li and Josh Bernoff (and recently updated), the book is a must read for anyone who pieces together coherant communications strategies.
My favorite quote — "concentrate on the relationships, not the technologies" — supports the book's four steps for social media planning: (1) people, (2) objectives, (3) strategy, and (4) technology. It also sets the stage for a brilliant section on engaging audiences online based on the communications problem you face:
Awareness (people don't know about you): Try a viral video, assuming you can come up with a brilliant idea that grabs your audience's attention.
Word-of-mouth (you need people to talk to each other): If you want to be hot and have people talking about how hot you are, go with Facebook, Twitter, or other appropriate social networks.
Complexity (you have complicated problems to communicate): Start blogging to reach multiple sets of customers or explain your complex products or services. As an added bonus, blog posts often get featured in traditional media and web searches favor them.
Accessibility (your audience members are stubbornly insistent on listening to each other, not you): Create an online community where your audience members can support one another or join one they've already created for themselves.
Naturally, when I ran across a video interview of Ms. Li about focusing on online relationships, not technologies, I had to pick it for February 2012 video clip of the month. As an added bonus, the video ends with practical advice for parents raising children in the digital age. Enjoy it below (and read or reread the updated Groundswell if you haven't already)!
You turn! Do you think concentrating on relationships is good advice? Please share your comments.
Posts You Might Also Like